It's not very often you get two gems in one day, but when you do it usually comes unexpectedly. Dad and I were metal detecting residential houses and ran across one that was built in 1964. It wasn't something I'd usually be excited about bus since Dad enjoys jewelry hunting we decided to stop by. I figured if I was lucky I might get a Rosey or Washington at best.
About 30 minutes into the hunt I got a 6″ high tone on the AT Pro and I thought for sure I had a clad quarter or maybe silver. I plunged my hand digger into the ground and haphazardly cut a plug. When I saw the edge of it I couldn't believe my eyes. My first half dollar. Not only that but it turned out to be a seated. I re-learned a valuable lesson that day about being careful when you dig. The huge scratch down the back of my best coin ever was a nice reminder.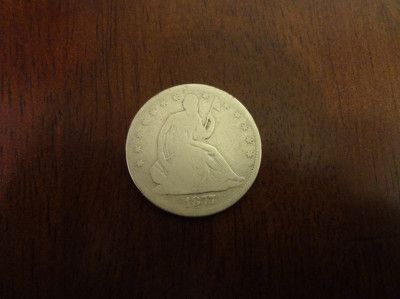 There were two huge trees in the front yard and even though there was a modern built home there I'm sure there was an old house there at one point. On the way home we spotted 2 albino squirrels which was pretty neat and it turned out to be a great day.